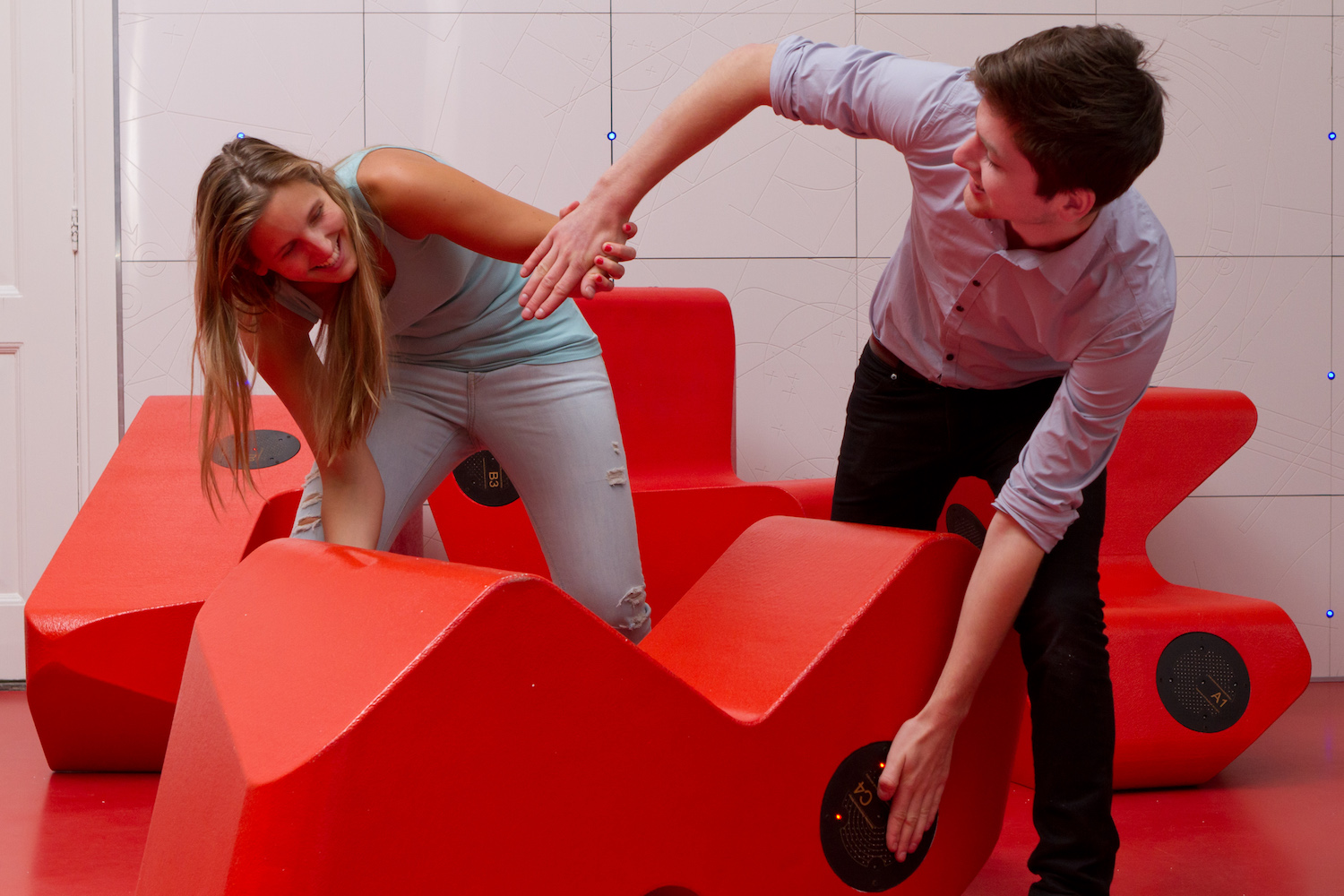 Students: Constantijn Belderbos, Chiel Borgonjen, Floor Brinks, Bas de Jong, Jeroen Lith, David Sultani, Samuel Verburg, Anouk Wulp, Benjamin Caljouw, Jay Didderen, Oswaldo Heinen, Bouwe Planque, Sabrina Verhage, Jonalt Vervloet, Kees Verweij, Jip Warendorf, Anntje Wong, Samuel Austin, Pim Glastra van Loon, Jesse Hoeksema, Meltem Kanatlarli, Daan Muilkens, Niels Stamhuis, Deniz Uygur, Thijs van der Lely, Bas Vermeulen.
Coaches: Aadjan van der Helm, Joost Broekens, Walter Aprile, Chris Kievid.
SoundScape
As a new definition of architecture Interactive Environments signify a field of architecture in which objects and space have the ability to meet changing needs with respect to evolving individual, social and environmental demands.
In the spirit of ideas worth spreading, TEDxDelft has invited students of the minor 'Interactive Environments' to exhibit five augmented furniture elements that were developed specially for this event.
Minor Interactive Environments: augmented furniture elements
Students of the minor 'Interactive Environments' will exhibit augmented furniture elements at TEDxDelft. Furniture systems can process information about their environment, their users as well as other objects/furniture units in order to become more functional and meaningful companions to its users. The developed projects demonstrate how interactive objects, wireless networks and custom behaviours can lead to the formation of a social environment. This project follows the leading idea that a network of tagged, actively communicating and acting components provides many new opportunities for the built environment, but, above all, it encourages a new way of thing about design and the creation of such environments.
TouchSpace is an installation that gives a new definition to furniture by its interactive relation with the users. It is not only an 'object' but also provides a spatial qualification by its user-changeable soundscapes.
TED en TEDx
TED is a nonprofit organization devoted to Ideas Worth Spreading. Started as a four-day conference in California 25 years ago, TED has grown to support those world-changing ideas with multiple initiatives. TEDx
In the spirit of ideas worth spreading, TEDx is a program of local, self-organized events that bring people together to share a TED-like experience. At a TEDx event, TEDTalks video and live speakers combine to spark deep discussion and connection in a small group. TEDxDelft will took place on Monday 7 November 2011 at Aula Congress Centre in Delft.
For the local TEDx Delft event [November 7, 2011], we were asked to transform a set of five bright red pieces of furniture into an interactive installation – the same pieces as used for earlier projects (see earlier posts). After a day of individual brainstorming during wich five concepts were developed and prototyped, all teams were combined to start working on a final design, suited for exhibition at TEDx.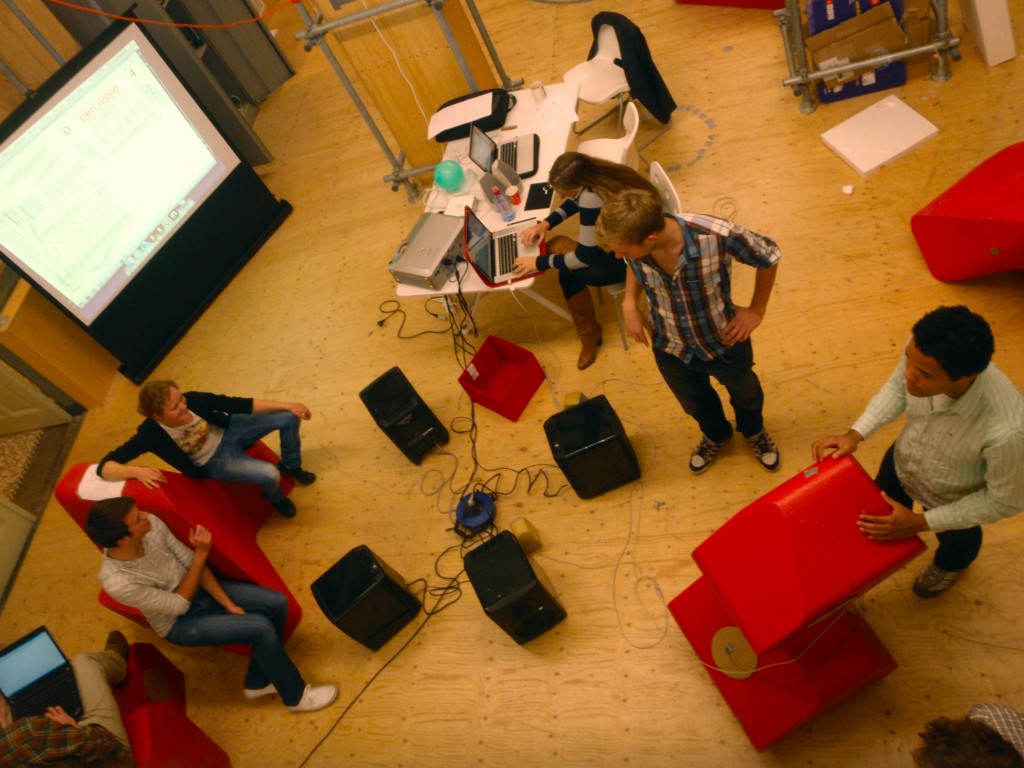 Concept
We will create an interactive soundscape, using four of the pieces as interface and one of them as central loudspeaker, a four-channel sound system and a Mac Mini embedded in it.
Development
We divided into four teams: A technical engineering team, focussing on wiring and code. A sound engineering team, focussing on the development of all musical components and samples of the soundscape. An interface design team, focussing on materialization and fabrication. And a behaviour design team, focussing on the overall behaviour of the installation.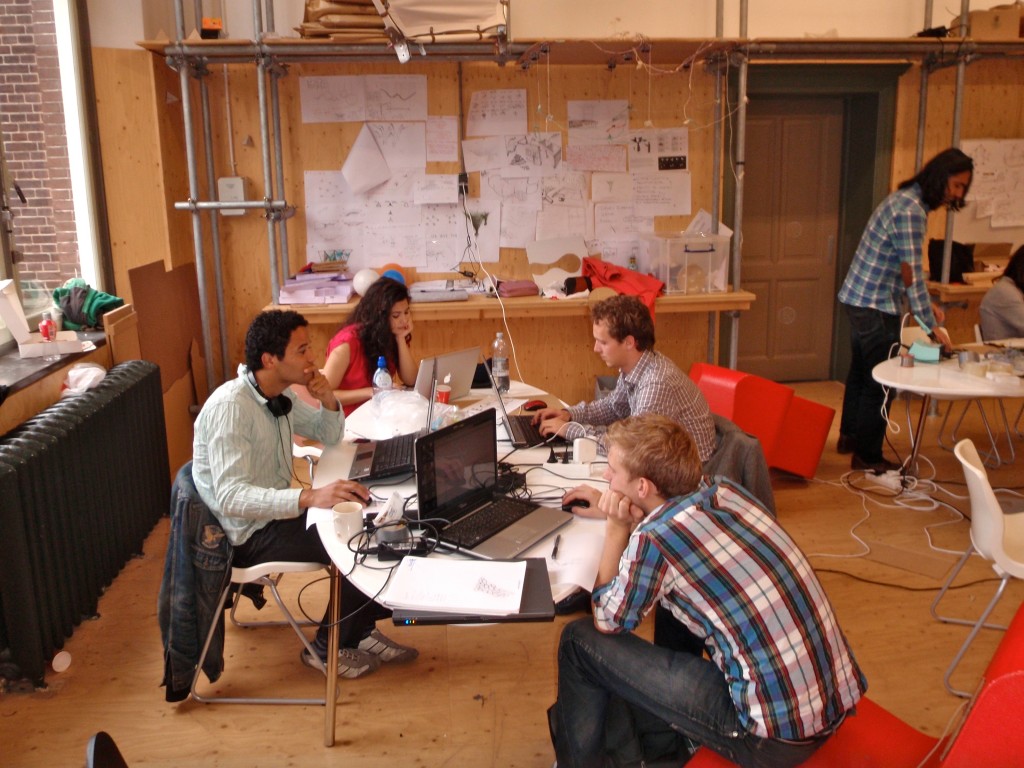 Each team started developing ideas and concepts, and we collaboratively designed a concept in wich all four interface chairs will be equipped with four touch pads each. Connecting these pads with each other will (wirelessly) trigger a sound sample out of a set of samples in the central speaker chair. Tumbling a piece onto another side will change the set of samples available, thus changing the genre of the soundscape. Each chair represents a different musical component; we've got two of them producing ambient sounds, one producing percussion and a sound effect chair. We would like to challenge TEDx visitors to experiment within the endless amount of soundscapes possible, by tumbling the chairs and collaboratively trigger different samples at a time.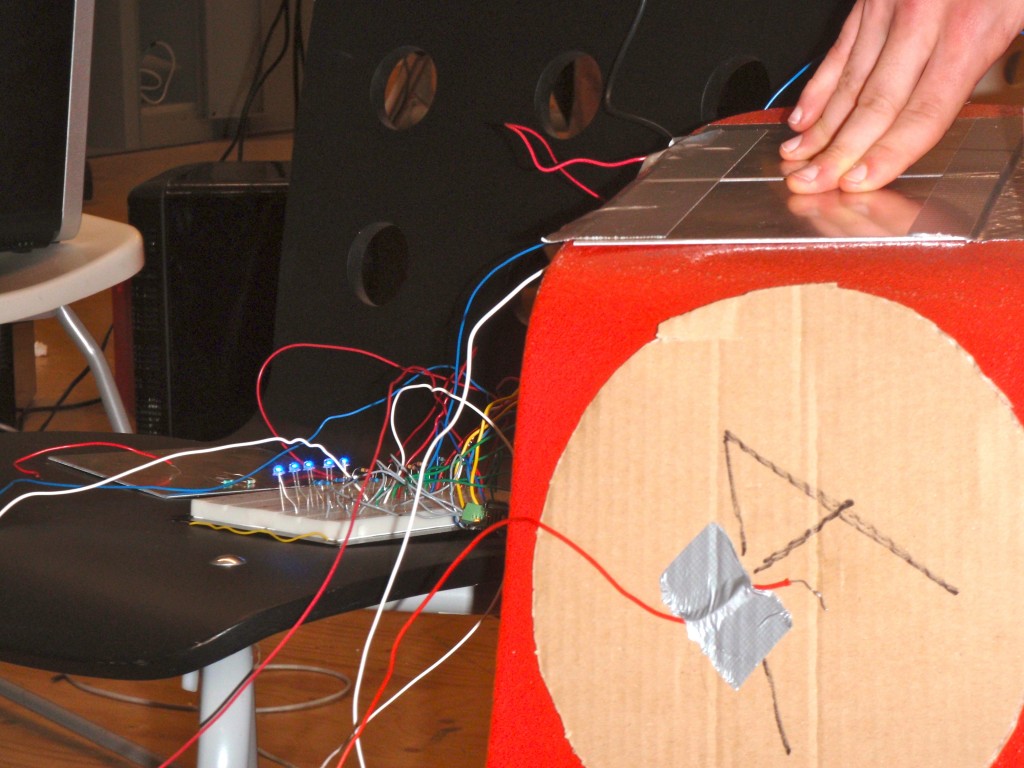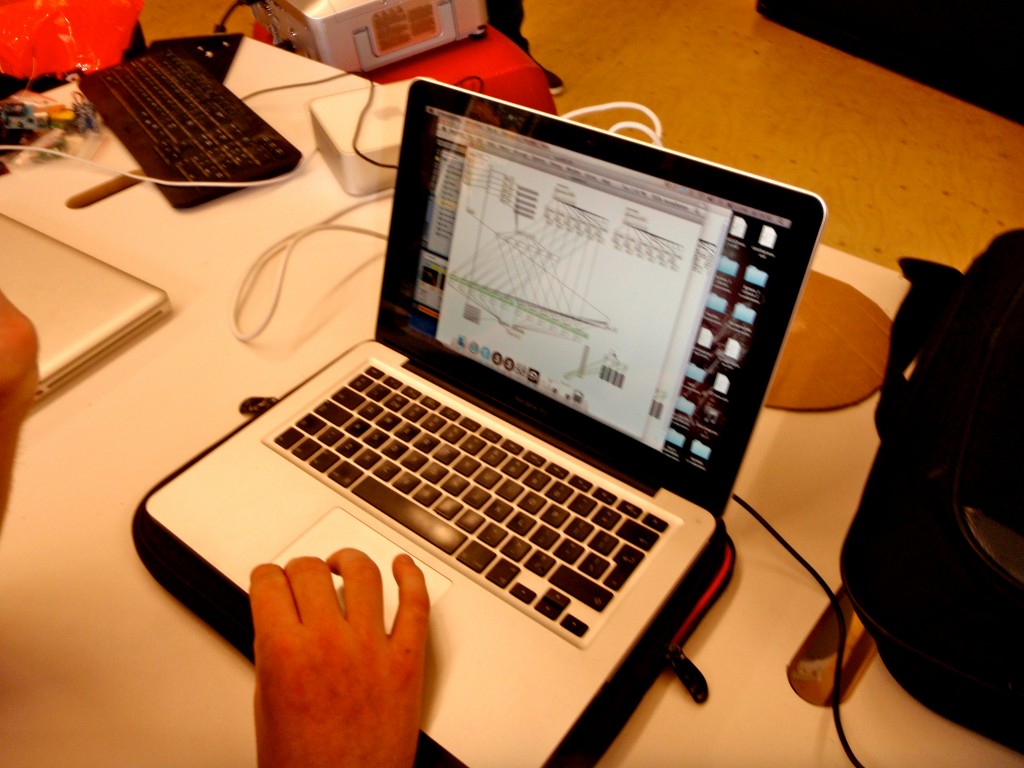 The touch pad interface will be designed so, that it is clear for users that multiple pads have to be connected by touching them simultaniously, using audio and LED output. We furthermore want to trigger people to start tumbling. However, the focus must still be on the soundscape, and not on the interface itself.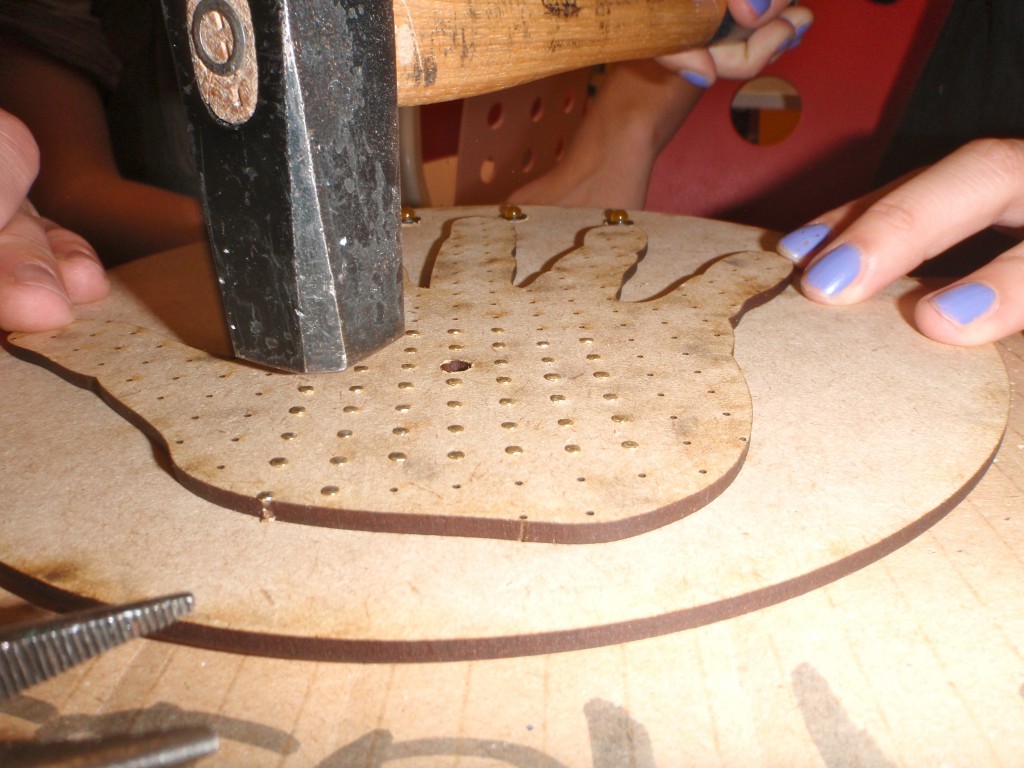 By Tuesday night, we had a simulation of the installation up and running, plus a prototype of the user interface touch pads.